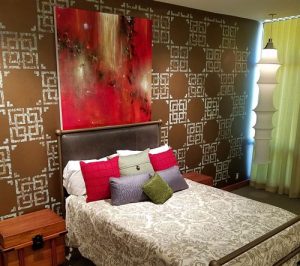 Faux finish painting is a unique form of painting that can mimic an incredibly wide range of materials. By using a variety of techniques, interior faux painting techniques can give your walls the look of wood, brick or marble with just the swipe of a brush.
Originally, interior faux painting techniques were used on walls, furniture, floors, ceilings, and countertops to give them a distressed or antiqued look. Absolutely Faux has taken this concept to the next level by using different materials to create an incredible array of finishes. These finishes are the perfect creative touch you can use to beautify your home or office.
Glazing
Glazing is a process that involves mixing oil or water-based paints with water or a solvent and adding a special glazing compound. This mixture can then be applied to the surface using rags, sponges, or other materials to create custom effects such as marbling, wood grain, or a range of other simple and complex patterns.
Three-Dimensional Imaging
No one ever said the walls of your home had to be two dimensional. Yet, how do you turn a flat surface into one that looks three-dimensional? Today, there are a number of textured products on the market that contain solid materials such as silica. When applied, this can add a third dimensional surface to your walls.
These paints can be applied to walls, countertops, furniture, fireplaces and more. They can then get the look and feel of bricks, stone, masonry, and even fossils that have been embedded into the surface.
Creating Wallpaper without Paper
Many people love the look of wallpaper, but the high cost and installation often deters people from using it. Using a range of faux finish painting techniques such as ragging, freehand painting, sponging, glazing, and masking, the artists at Absolutely Faux can create the illusion of wallpaper. In addition, you won't have to deal with the mess that comes with removing old wallpaper. It's easier to do and you still get the same amazing look.
Plaster is King
The advent of sheetrock put an end to using plaster to finish walls and ceilings and create intricate patterns. Thankfully, there are new synthetic materials available that can be used to create a perfectly smooth canvas. This can then be used as the base for a wide range of faux finish painting techniques. Alternatively, intricate patterns can be carved into the plaster before the final finish is applied.
Thanks to the ever-increasing variety of interior faux painting techniques becoming available, it is possible to create an entirely new look on virtually any surface in your home or office. Why not contact Absolutely Faux at (775) 691-5947 and let us turn your dreams into reality?