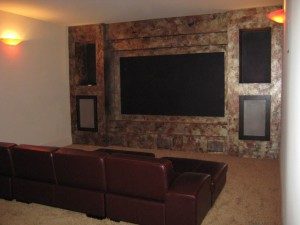 White. Blue. Green. There are only so many ways you can give life to a room with regular paint colors. Are you tired of looking at plain walls? Have you had enough of dull paint jobs or gaudy wallpaper? Why not talk to the experts at Absolutely Faux for something completely different! Faux finish painting is an amazing technique that can be used to create an endless variety of finishes on the walls of your home, office, restaurant, or just about any other place you can imagine.
Plain Can Be Boring
No one likes looking at plain boring walls, so the experts at Absolutely Faux offer those who live in the Reno, NV area a chance to transform their interior walls into something completely unique. Far from the ordinary, faux finish painting involves using several different techniques to replicate a wide variety of materials such as wood grain, cork, linen, marble and more.
Imagine walking into your dining room to find the walls covered with a beautiful finish that looks and feels like sandstone. By combining the perfect blend of glaze, paint, and application technique, Absolutely Faux can create the impression of walls made from pure sandstone for a fraction of the cost.
Natural stone tiles can be very expensive, especially the larger ones many are choosing to decorate their kitchen and bathroom walls. Replacing them when they start to look old or outdated can be very costly and involve days of work. Faux finish painting is a wonderful way to breathe life into those old tiles. Why not have them painted to resemble marble or have a completely unique and personal color or finish applied?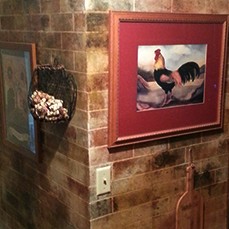 The Possibilities Are Endless
There is nothing quite like the look of natural brick, in fact, interior brick walls have become very popular in the past few years. However, in many cases having a real brick wall is less than practical. Faux finish painting is an amazing way to create the same look at a fraction of the cost and none of the hassle.
Linen wallpaper was once extremely popular in many parts of the world, but can be hard to find today. Even if you can, it is often only offered in limited designs. Faux finish painting can simulate linen wallpaper and can be completed in virtually any color and pattern you can imagine.
At Absolutely Faux, the only limitation to what can be done to your walls using faux finish painting is your imagination. Add a touch of whimsy to your baby's room or a touch of class to your living room or office. Mix and match textures, colors, patterns and more to turn your home or office into something completely exceptional that you can enjoy for many years to come.
Contact us at (775) 691-5947 or visit our website today to talk about your ideas for the perfect wall finish and let us show you how we can turn your dreams into reality today!