Custom Faux Finish Painting in Minden, NV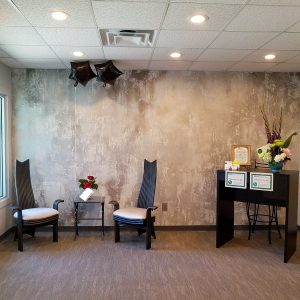 Absolutely Faux recently completed a custom faux finish painting project for Millennium Spa in Minden, NV. From start to finish, the project only took about a week to complete and the customer was very pleased with our work. Here is how the project was started, completed, and what our customer had to say about it:
What Millennium Spa Was Looking For
The owner of Millennium Spa, Pam, contacted us about doing a feature wall at her new location. She had found a picture of a faux finish painting on the internet and wanted us to create the same look. We had several meetings to discuss the various options and the direction of our plans. Pam decided that she also wanted the project to include a metallic faux finish on the halls. Although she knew she wanted to have monochromatic grays to harmonize with the gray wood and carpet flooring, Pam was unsure of her color choices. We provided her with a couple of samples so she could see what it would look like when it was completed.
Absolutely Faux Processes
After the walls were primed, we began by putting our metallic base coat down. The color we chose to fit Pam's desires was Modern Masters pewter. Using a tap in knock down technique, we covered about 75% of the wall. By leaving the metallic base exposed a little, it is able to show through. Finally, we put the top coat of metallic finish using a glaze medium with added metallic colorants.
Testimonial of Our Happy Customer
"I had the pleasure of working with Leslie for our medical spa build out. Leslie was able to visualize and understand the concept of the design I wanted for the lobby and add a beautiful pearled texture throughout the hallways. Leslie worked with the contractor and the crew to make sure that all flowed smoothly, not getting in the way of all of the finishing details that were going on. Millennium Medical & Spa Suites opened on time and the lobby is a beautiful entry to greet our patients! I catch many people touching the wall trying to figure out exactly what type of material it is…it's STUNNING! Leslie always has a smile on her face and is a true professional!"