faux finish and decorative painting needs
Absolutely Faux Services
• FREE ESTIMATES for the greater Reno area up to a 50 Mile Radius
• Custom-designs tailored to your specific aesthetic need
• Residential and Commercial spaces
• Interior and Exterior Work
• Decorative painting is our speciality
• We cover Reno, Sparks, Carson City, Lake Tahoe, Truckee, Fernley, and all of Nevada
• We can accommodate any interior design specification
Faux and Decorative Painting Techniques
Decorative Painting or Faux Finishing are both terms used to describe a wide range of decorative and artistic faux painting techniques and textures. From the French word for "fake," faux painting began as a form of replicating materials such as marble and wood with paint. Its use later expanded to encompass many other decorative painting finishes for walls and furniture. In modern day faux painting, the two major materials/processes used in decorative and faux painting are Glaze and Plaster.
Glaze and Plaster Decorative Painting
Glaze work is a common decorative painting method. It is smooth to the touch and yet often mimics an attractive texture. It involves using a translucent mixture of paint and glaze applied with a brush, roller, rag, or sponge. This can create a marbleized look, a wood-grain finish, a sandstone look, a cork impression, or just about any effect you can imagine – even linen! The sky is the limited with decorative paint in glaze.
Plaster is another common method of faux or decorative painting. Absolutely Faux might use tinted plasters, or wash over the surface using earthen pigments. It is generally applied with a trowel or spatula. The finished result can be either flat to the touch or have a textured feel. The faux painting methods and variations of finishes are nearly unlimited.
Faux Painting Possibilities
Faux painting adds affordable impact to any interior decorating or Feng Shui project. Whether your style is Tuscan, Venetian, modern European or if you are simply looking to add an accent to ceiling beams or furniture, Absolutely Faux will add stunning beauty to your interior at a more affordable price than remodeling.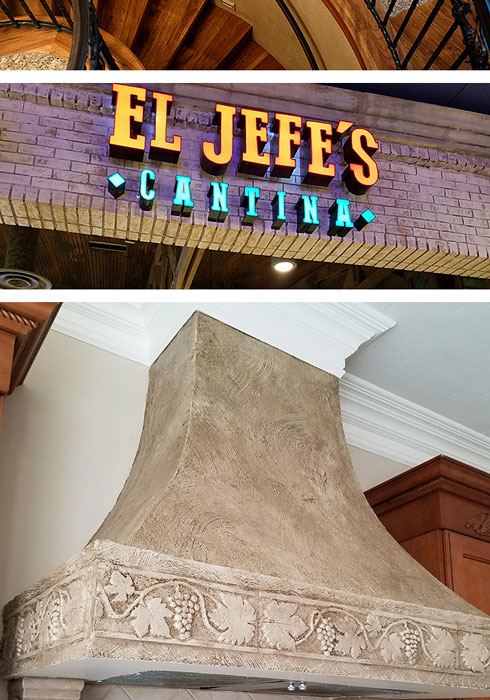 Faux Finish Textures
Our decorative painting finishes can produce an almost unlimited variety of effects and textures – from dramatic impact to subtle elegance. Our expert painting artists recreate textures such as marble, sandstone, metal, wood grain, bark, and stria textures. Once relegated only to theatrical set painting, the artistry of faux painting creates impressive interiors that are as affordable as they are beautiful.
Here's just a sample of some of the decorative painting and faux finish textures created by Absolutely Faux. If you don't see the faux texture you want, just ask! We are glad to share our work and these images with you. Thank you for looking.